About the OBOA
We are guardians of a better built Ontario.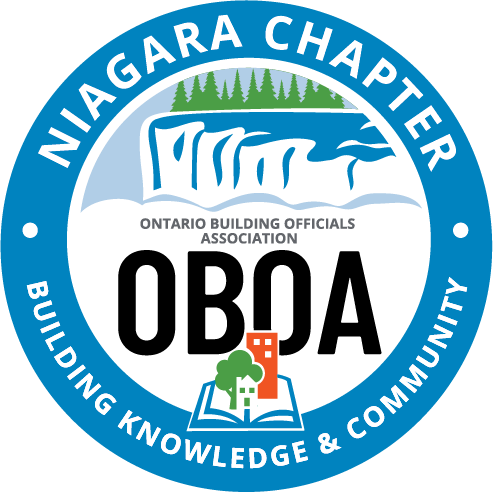 Region D
Niagara Chapter
Niagara/Hamilton Chapter (since 1975)
The Niagara/Hamilton Chapter of the Ontario Building Officials Association meet once a month(near last Thursday of each month) to share and discuss Building Code/construction issues and ideas and solutions. Our meetings/events may include a seminar, a new facility tour, a product presentation or a technical code session. The Niagara/Hamilton Chapter consists of 13 Municipalities, they include;
Town of Fort Erie, Town of Lincoln, Town of Grimsby, Town of NOTL, Town of Pelham, Township of West Lincoln, Township of Wainfleet, City of Niagara Falls, City of Welland, City of Thorold, City of Port Colborne, City of St.Catharines and City of Hamilton
News
Hi all Chapter members, We are now in our 44th year of the Niagara Chapter 2018-2019. Turnout has been good to our meetings, lets keep it up! Our next event will be our last chapter meeting of the current season in April before our annual Golf outing and summer break, an email will be sent prior to all members with details. Hope to see everyone there.
| | |
| --- | --- |
| Chair: | Luciano Chieca - Niagara Falls |
| Telephone: | 905-356-7521 Ext. - |
| Fax: | - |
| Email: | Email |
| Deputy Chair: | Mark Tardif - Wainfleet |
| Telephone: | 905-899-3463 Ext. 4358 |
| Fax: | 905-899-2340 |
| Email: | Email |
| Treasurer: | Marty Wrabiutza - Thorold |
| Telephone: | 905-227-6613 Ext. 255 |
| Fax: | 905-227-5590 |
| Email: | Email |
| Secretary: | Andrew Puszczalowski - Niagara on the Lake |
| Telephone: | 905-468-3266 Ext. 287 |
| Fax: | 905-468-0301 |
| Email: | Email |
Last Updated: 2019-04-08 (Out of date? Update now.)