About the OBOA
We are guardians of a better built Ontario.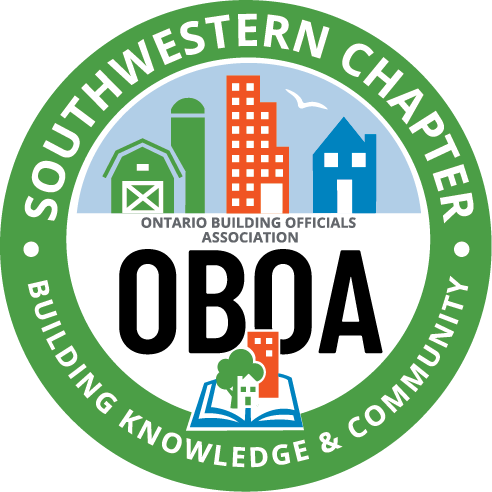 Region E
Southwestern Chapter
The Southwestern Chapter is very active within the OBOA as well as our community's. The Southwestern Chapter prides itself on being the leading edge of education with all of our partners. Presently,there are approximately 99 members of the Southwestern Chapter of the OBOA, which is comprised of municipal building officials, engineers, and designers. Member municipalities and townships of the Southwest Chapter are from the area that extends from Woodstock, west to Sarnia, then south to Port Burwell and north to South Huron.
The Southwestern Chapter has received the Tom Powdrill twice, once in 2003 and again in 2010.
News
PROGRAM COORDINATORS
Brad Smale & Wayne Ysebaert
PH - 519-468-2410 x 231 / 519-332-0330
FX - 519-879-6385 / 519-332-0776
bsmale@norwich.ca / wayne.ysebaert@sarnia.ca

EDUCATION COORDINATORS
Eugenio DiMeo & Lorraine Neal
PH - 519-773-5344 X 223 / 519-539-2382 x 3152
FX - 519-773-5334 / 519-421-3250
edimeo@malahide.ca / lneal@cityofwoodstock.ca
| | |
| --- | --- |
| Chair: | Jason Silcox, CBCO |
| Telephone: | 519-284-2340 Ext. 242 |
| Fax: | 519-284-0902 |
| Email: | Email |
| Deputy Chair: | Lorraine Neal, CBCO |
| Telephone: | 519-284-2340 Ext. 3152 |
| Fax: | 519-421-3250 |
| Email: | Email |
| Treasurer: | Corrine Nauta |
| Telephone: | 519 845 0809 Ext. 5352 |
| Fax: | 519-381-5999 |
| Email: | Email |
| Secretary: | Pamela Hastie |
| Telephone: | 519-854-0993 Ext. 4677 |
| Fax: | 519-661-5184 |
| Email: | Email |
Last Updated: 2019-05-06 (Out of date? Update now.)