About the OBOA
We are guardians of a better built Ontario.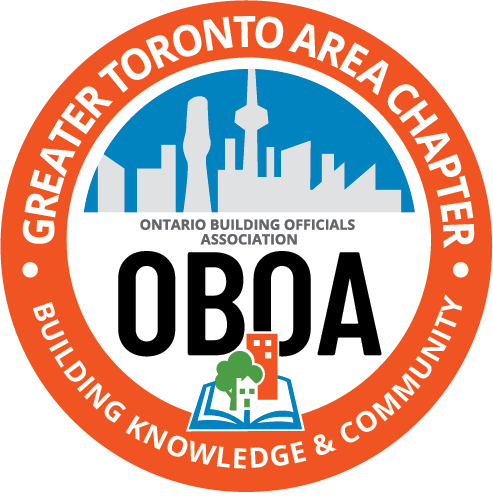 Region F
Greater Toronto Area Chapter
Most of us agree that the learning and creative ability is best stimulated in an open and flexible environment.
At the OBOA GTA Chapter we have two pillars, the Training and the Social Setting partnering each other in mutually beneficial ways for our members.

We are constantly pursuing professional development of our members by bringing together the regional building practitioner's community to share and discuss progress strategies while extending on their practical knowledge.

Take the opportunity and become a GTA Chapter member at our upcoming meeting. The Annual Membership Fee is only $15.00 and if you happen to miss our next meeting, please be advised that memberships are accepted at any time during the year.

We look forward to seeing you there.
News
Good morning and Happy New Year OBOA Members!

On behalf of the executive I hope your entry into the new year was enjoyable and effortless.

Just a friendly reminder regarding our monthly meeting and fourth technical session of the new year being held on the morning of Thursday October 25th. We will be delivering a presentation which contains material on the Questions and Answers regarding fire stopping, codes, testing and analysis.

Please join us for the session which will begin at 9am and finish at 12pm. No lunch will be provided at this session. The fee for OBOA delegates who are not Chapter members wishing to attend must be paid on the 25th and is set at $20. For non OBOA members the fee is $30. Please feel free to invite colleagues from your respective municipalities.

Should there be any items, topics or case studies you would like discussed (time permitting) please do not hesitate to upload them to the executive at the email address mentioned above.

Hope to see you there!



Derek Graham
OBOA - GTA Chapter Chair

| | |
| --- | --- |
| Chair: | Derek Graham |
| Telephone: | 905-874-2478 Ext. - |
| Fax: | - |
| Email: | Email |
| Deputy Chair: | Anthony Magnone |
| Telephone: | 905-874-2415 Ext. - |
| Fax: | - |
| Email: | Email |
| Treasurer: | Alana White |
| Telephone: | 905-874-3398 Ext. - |
| Fax: | - |
| Email: | Email |
| Secretary: | Mary Frenette |
| Telephone: | 905-874-2445 Ext. - |
| Fax: | - |
| Email: | Email |
Last Updated: 2018-10-10 (Out of date? Update now.)